Show Sheep Feeds
Precise Formulations: All nutrients are balanced and at optimum levels. Proper nutrient levels are important for improving performance, preventing disease by strengthening the immune system, increased bloom, vigor, preventing white muscle disease, preventing goiter, increasing feed utilization, and reducing off feed times.

Unique Blend of Protein Sources: Our blended protein is composed of: (1) RDG– (Rumen degraded protein), (2) Rumen By–pass protein, and (3) a small amount of NPN which goes directly to rumen microbial protein. All types are included at the proper levels and precisely balanced. Our protein sources increase muscling and improve feed conversion

All show lamb feeds contain 30 g/ton of Bovatec as a coccidiastat This level of Bovatec will keep cocci infestation levels low. Cocci infestations reduce performance, slow gain, and open the animal up for other diseases, like pneumonia. Custom mixes of our Show Lamb Feeds are available with Deccox; call for pricing.

All show lamb feeds are texturized sweet feeds made with the highest quality ingredients available. We use only the best rolled and cracked grains, with a higher level of barley than our competitors. Because we include soy oil and liquid molasses in all of our formulations, our feeds are very palatable, dust free, and free of fines.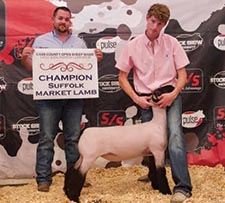 Colin Deno showed Champion Suffolk Market Lamb at the 2019 Cass County IJCLC Show. The Deno's are long time feeders with us, feeding both flock and show stock on our program.
18 SHOW LAMB
We have updated our most popular show feed. The 'new' 18 Show Lamb will improve both performance and show ring results. 18 Show Lamb now has increased barley (which gives it a great 'look' & texture) and an increased fiber level to address the needs of today's market lambs.
18 Show Lamb builds on it's long record of feeding success with these changes. 18 Show Lamb's by pass protein aids in building well muscled lambs. Our high levels of vitamins and minerals, along with rumen health improving ingredients will give every lamb the best opportunity to stay on feed and be healthy during the stressful show season.
We have added Amaferm and Actigen (the concentrated form of Bio- Mos) to increase beneficial gut bacteria, reduce pathogens, improve feed utilization & digestibility, improve level of microbial protein available to the small intestine, and greatly enhance the health and development of the rumen. We have also added Bovamine Defend as a beneficial probiotic (beneficial bacteria) to improve rumen health, disease resistance, livestock performance, and aid in a reduction in pathogens.
#10003 — 50#
Ship wt. 52 lbs.
Call for Pricing
SHOW LAMB 2000
This is our texturized holding feed for show lambs. Feed as the second stage in your show lamb feeding program. SHOW LAMB 2000 is best used to control rate of gain and fat cover on lambs, while maintaining muscling. The formulation is similar to 18 Show Lamb, except that '2000' contains less corn, more oats, and added cottonseed hulls.
Therefore, 2000 is a lower calorie, lower energy, higher fiber feed. Feed about 3 lbs./day with fresh water and a small amount of hay. When holding weight on show lambs, you can topdress 4 oz. of 'TOPLINE' and 2 oz. of SHOW PRO per day.
#10004 — 50#
Ship wt. 52 lbs.
Call for Pricing
SHOW SHEEP 165
A texturized show feed for show breeding stock and replacement ewes. This feed contains a fiber level in between the levels contained in 18 Show Lamb and Show Lamb 2000. Contains cracked corn, oats, barley, a pelleted protein supplement, cotton seed hulls and liquid molasses.
This clean, dust free formulation can be fed to show lambs, but is specifically formulated for show and replacement ewe lambs and ram lambs. Feed from 6 months to 2 years of age. Show Sheep 165 is 16.5% protein.
#10002 — 50#
Ship wt. 52 lbs.
Call for Pricing
17% SHOW LAMB
17% Show Lamb is our new Show Lamb Feed! Use 17% Show Lamb for feeding situations were a lower protein ration is desired. 17% Show Lamb contains cracked/rolled grains, our special show lamb supplement pellet, rolled barley, liquid molasses, and cottonseed hulls.
This feed is similar to our proven 18 Show Lamb in terms of trace mineral, vitamin, stress preventing ingredients, bypass protein, and probiotic/prebiotic levels. The key differences in this new feed are it's lower protein level (17%) and the cottonseed hulls. 17% Show Lamb also includes Amaferm, Actigen/Bio-Mos, & Bovamine Defend Probiotic. Don't confuse the common name of this feed with everyone else's 17%.
Our 17% Show Lamb is made with our own highly fortified protein supplement pellet which we use to make only our show lamb feeds. 17% Show Lamb contains rumen by-pass protein sources to build muscle and let a lamb develop to it's genetic potential. 17% has levels of vitamins and minerals, along with rumen health improving ingredients to keep lambs healthy and on feed during the challenging show season.
#10005 — 50#
Ship wt. 52 lbs.
Call for Pricing
Blake Kessler had the Supreme Champion Ewe with his Dorset Fall Ewe Lamb. The Kessler's are long timefeeders with us, feeding both flock and show stock on our program.