Beef Cattle Feed & Supplies
BEEF COW PELLET
This is a highly fortified pellet most often used as the winter grain mix for Beef Cow Herds. Beef Cow Pellet is made with soy hulls, ddgs, grains, minerals, trace elements, and vitamins. Producers use Beef Cow Pellet to supplement existing grain and forage. Beef Cow Pellet is well fortified with minerals, all trace elements, and vitamins.
Beef Cow Pellet vs. 'The Other Guys' — When it comes to supplemental feeding of the beef cow herd; price, quality, and simplicity are often the primary concerns of the producer. While there area few companies catering to this business, many are merely blending manufacturer produced soy hull and corn gluten pellets and calling it feed.
These competitor products are very large pellets made by the intital processor. These two large pellets are often blended by small mills that lack ingredients, a nutritionist, and a pellet mill. While these small mills have the best of intentions, their product contains a large amount of fines, is prone to ingredient separation and lacks proper nutritional balance. We have the ingredients and pellet mills to make a well fortified, fine free, uniform particle size, nutritionally balanced pellet that you can supplement with!
14% CALF CREEP PELLET w/BOVATEC
This is a 14% protein calf creep pellet that is highly palatable, is well fortified, and has a good conversion rate. Calves eat this pellet very well and have excellent gain.
BEEF CALF CREEP w/BOVATEC
This is our popular texturized creep feed which is floor stock. Beef Calf Creep is a clean, consistent feed that the calves really go to, and perform well on. Beef Calf Creep is very palatable and contains Bovatec for coccidois control.
Beef Calf Creep is 13.5% protein and 3.5% fat with optimum levels of vitamins, selenium, and trace minerals. Quality of manufacturing and high nutrient fortification makes this a feed that will get the calves off to a quick start and keep them performing well.
BEEF COMMODITY PELLETS
We can pellet most feed commodity ingredients and blends of these ingredients to best feed your herd. We pellet Soy Hulls, DDG's, and Commodity Blend's of these and other ingredients, available in bulk or bagged form.
BEEF FEEDLOT SUPPLEMENTS
Let us formulate your custom supplement based on the animals you are feeding and your forage/feed test results. Custom supplements are formulated to balance your on farm feedstuffs(silage, hay, by-products, grains).
Your calves weight, desired rate of gain, and feed conversion goals are considered in the formulation of these custom supplements. Pelleted Supplements, Premix/Basemixes are available in bulk or bagged form.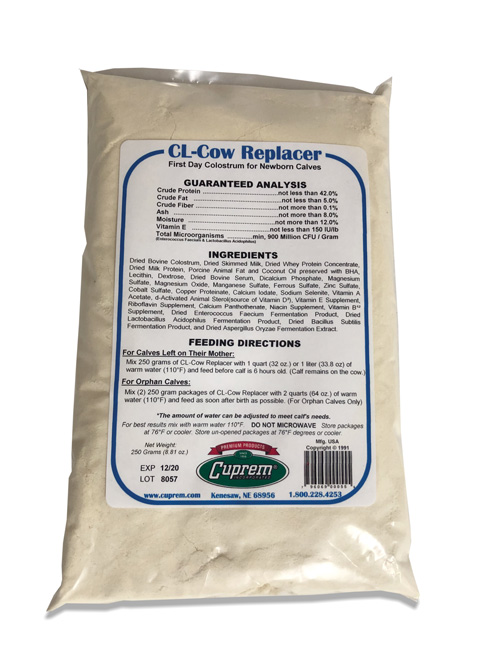 CL COW REPLACER
CL Cow Replacer should be used on newborns who receive an inadequate supply of colostrum nourishment from the mother during the first hours of lift. CL Cow Replacer is a complete nutrition and lactobacillus replacement.
CL Cow Replacer can be mixed in a small amount of water so calf's appetite is maintained and will still look for a teat. CL Cow Replacer is all milk protein, pH adjusted to allow a more natural intestinal compatibility.
#2070 - 250 g.
Ship wt. 1 lb.
$ 18.60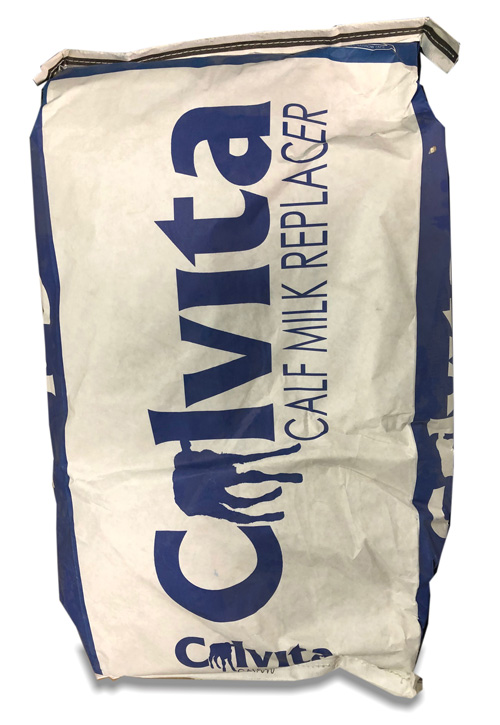 CALF MILK REPLACER
Guaranteed Analysis:
Crude protein, not less than.20.00%
Crude Fat, not less than.20.00%
Crude Fiber, not more than.0.15%
Calcium, minimum............50%
Calcium, maximum........1.00%
Phosphorus, minimum......60%
Ash, maximum...............9.00%
Moisture, not more than 3.00%
Vitamin A, not less than 35,000 IU/lb
Vitamin D3, not less than .7,500 IU/lb
Vitamin E, not less than 150 IU/lb
Price subject to ingredient cost fluctuations. Several product options available.
#2001 — Calvita All Milk 50#
Ship wt. 52 lbs.
$ 87.40
#3039 — Century Calf 50#
Ship wt. 52 lbs.
$ 85.00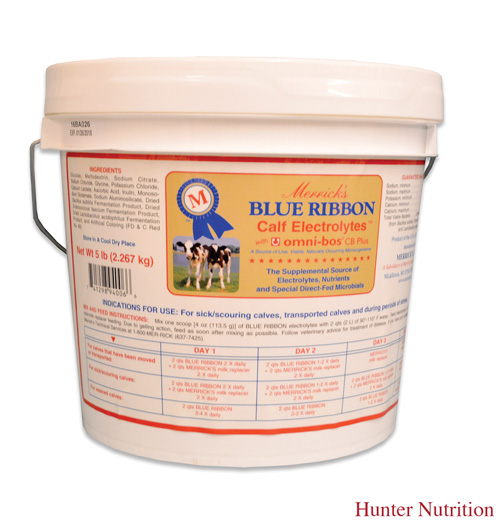 CALF ELECTROLYTE PACK
Made by Merrick's, it is a source of live, viable, naturally occurring micro-organisms. Use for treatment of stressed and sick/scouring calves. Treat up to four days.
#2060 — 5 lb. Pail
Ship wt. 6 lbs.
$ 38.00
Also available in 100# drum. Special Order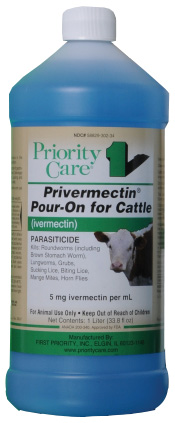 PRIVERMECTIN CATTLE POUR-ON
For the treatment and control of gastrointestinal roundworms (including inhibited Ostertagia ostertagi), lungworms, grubs, horn flies, sucking and biting lice and sarcoptic mange mites in cattle. (Safe for pregnant cattle). 48 day withdrawal. Dosage: 1 ml per 22 lbs. body weight
#3002-1000 1 Liter
Ship wt. 4 lbs.
$ 32.45
#3002-5000 5 Liters
Ship wt. 15 lbs.
$ 62.72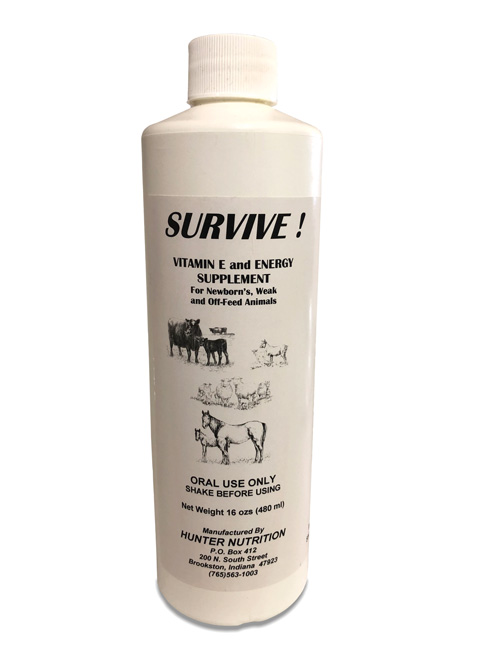 SURVIVE! FOR CALVES
Our multi-species Survive ! oral Energy and Vitamin E Supplement works great for newborn calves, and sick or weak adult cattle. Dose every calf at birth with five pumps(20ml): which provides 2,075 IU Vitamin E, 18,900 IU Vitamin A, 4,700 IU Vitamin D, and one of the highest levels of energy available.
Survive! should be given at birth. Survive! is made with oil, instead of propylene glycol, to be gentler on a calves' stomach, and it is also nutritionally superior.
#500119
Ship wt. 1.4 lbs.
$ 21.00
#500119CS - Case of 12
Ship wt. 14 lbs.
$ 230.00