Beef Cattle & Show Calf Feeds
Our Cattle and Show Calf Feeding Programs are different: Most companies formulate cattle feeds based on being able to sell them at a low price. We formulate feed that will allow animals to reach their genetic potential. This means feeds that are fortified above NRC and traditional levels. Highly digestible ingredients are all we use, no cheap fillers, and no least cost formulation!

Optimum Vitamin & Trace Mineral Levels: Our higher levels of vitamins (especially A & E) along with balanced trace elements, like zinc, improve skin and hair coat. Typically, our feeds contain 1.5 times the level Vit. A of other feeds!

Our Show Calf Feeds Stay Fresh Longer, Uniform Texture, More Palatable: Our feeds are formulated to have less dry-out than competitors. Calves hair coats are full and shiny. With added mold inhibitors, we have an exceptionally low incidence of moldy feed even during the hottest summers. Our superior quality and unique blend of ingredients, as well as our quality control, result in consistent and palatable rations. Calves do not experience off-feed times as they do with the competitor's feeds.

Proper Fiber Levels & Highly Digestible: We have balanced rations with the right amount of Fat, Fiber, TDN, etc. Unlike many competitors, we use the right amounts of Cottonseed Hulls in our Show Calf Feeds. Too much fiber results in low gains, poor hair coat, and high feed cost due to poor feed conversion. Too little fiber produces off-feed times and an unbalanced rumen PH.
SHOW CALF 4000
'Our Moderate Fiber/ Energy Formula'
This is an intermediate fiber and energy texturized feed, perfectly suited for Heifers and Steers in many show calf feeding situations. Show Calf 4000 is used to start calves on, fed to heifers all the way through, and fed to Steer's when you want moderate gain without too much cover.
Steer's are often started on '4000' ; then go to '5000' for fast gain and development– then back to '4000' to hold them at a desired show weight. Show Calf 4000 contains steam rolled corn, cracked corn, barley, crimped oats, cottonseed hulls, pelleted supplement, liquid supplement, and liquid molasses.
#400001
Ship wt. 52 lbs.
Call for Pricing
SHOW CALF 5000
'Our Fast Gain/Extra Condition Formula'
This texturized feed is higher in energy and lower in fiber than Show Calf 4000. Use Show Calf 5000 when calves need very fast gains and extra cover. Feed to steers after they have been started on feed. Show Calf 5000 can also be fed to heifers which need extra weight gain and cover.
Show Calf 5000 is a higher energy feed which produces a faster gain, it can also put down more cover (if desired) by feeding at a high level. Show Calf 5000 contains steam rolled corn, cracked corn, barley, crimped oats, cottonseed hulls, pelleted supplement, liquid supplement, and liquid molasses.
#400002
Ship wt. 52 lbs.
Call for Pricing
34% BEEF SUPPLEMENT
Our own 34% Beef Supplement is higher fortified in vitamins and minerals than the other 34% supplements. 34% Beef Supplement is highly digestible, nutritionally superior, and contains no cheap fillers.
Our high levels of vitamins (especially A & E) along with optimum trace mineral levels improve eyes, hair coat, and immune response. 34% Beef Supplement pellet is all natural protein and ideal for making all cattle rations. Our pellet is clean and dust free. Also available with medications. Feed 34% Beef at 1-2 pounds per head daily.
Sample Ration

| | |
| --- | --- |
| Grain | 1700 |
| 34% Beef | 300 |
| | 2000# |
40% BEEF SUPPLMENT 100R
This is a pelleted supplement containing some urea and Rumensin. 40% Beef Supplement is the recommended grower-finisher supplement for ruminating beef and dairy beef calves.
The low feeding rate of this concentrated supplement results in maximum performance and reduced cost per head per day. High levels of Vitamin E in 40% Beef Supplement aid in maintaining cut quality and color and the delayed discoloration of beef in the meat case. Feed at one pound per head per day.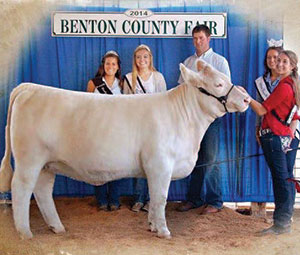 Jessica Janssen with her 2014 Grand Champion Heifer and Grand Champion County Raised Heifer at the Benton County, Indiana Fair. She was also the 2014 Indiana State 4-H Fair Grand Champion Charolais Female and Reserve Grand Champion Charolais Female in the State Fair Open Show.
2:1 BEEF MINERAL
Premium Quality Free Choice Mineral
A complete free choice mineral with all required vitamins and minerals. This exceptional high quality product has uniform particle size of ingredients and added mineral oil to avoid separation, reduce dust and improve consumption.
Every 3 ounces of Beef Mineral provides the maximum FDA allowed selenium level for Beef cows at 3.0 mg. The higher selenium level improves many immune response functions and reproductive performance. To prevent goiter and to aid in improvement of reproductive efficiency, Iodine is included. We have increased our Zinc and Manganese levels in all versions of Beef Mineral.
Zinc plays a major role in animal health. Zinc is also important in maintaining hoof health, strength, and function. Manganese is very important to reproductive performance. Without adequate Manganese animals will have delayed estrus and reduced conception rates. All versions of Beef Mineral also contain Magnesium, Potassium, Sulfur, Iron, and Cobolt.
| | |
| --- | --- |
| Calcium | min. 15% |
| Phosphorous | min. 7.0% |
| Salt | max. 21% |
| Magnesium | 2.0% |
| Potassium | 1.0% |
| Selenium | 40ppm |
| Vitamin A | 300,000 IU/lb |
| Vitamin D | 100,000 IU/lb |
| Vitamin E | 400 IU/lb |
| | + Trace Minerals |
#321651 — 50# bag
Ship wt. 52 lbs.
$24.78
2:1 BEEF MINERAL w/Altosid® (Fly Control)
2:1 Beef Mineral with added Altosid®. Altosid is an oral larvicide. Start feeding the Altosid (or other oral larvicide) 4 weeks prior to fly season.
The oral larvicide goes thru the animal into its manure, when fly eggs hatch in this manure, the larvae are killed by the larvicide. Altosid® is a registered trademark of Wellmark International.
#321653 — 50# bag
Ship wt. 52 lbs.
$28.32
2:1 BEEF MINERAL HIGH MAGNESIUM
#321655 — 50# bag
Ship wt. 52 lbs.
$26.14