Animal Health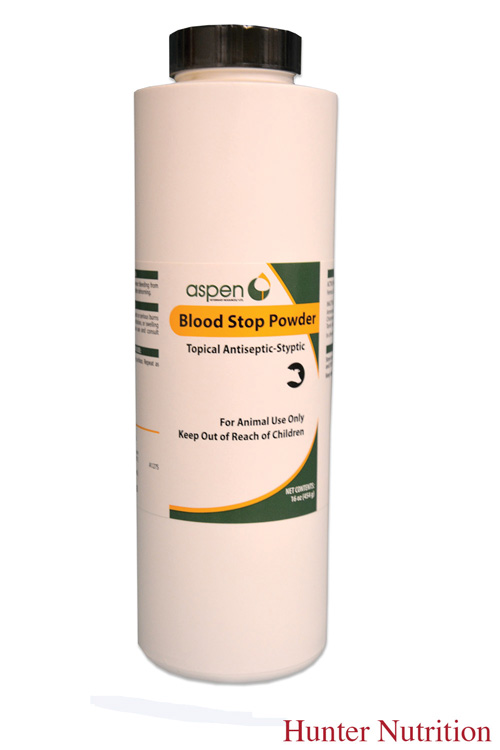 BLOOD STOP POWDER
Hemostatic powder for topical application. Controls bleeding.
#2062 — 16 oz
Ship wt. 1.4 lbs
$7.58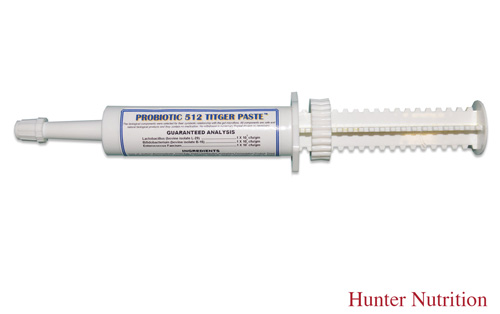 PROBIOTIC 512 TITGER PASTER
Replaces ruminant lactobacillus gel. A source of live, naturally occurring microorganisms. Probiotic 512 Titger Paste is a combination of biological components that have a symbiotic relationship with the gut microflora. Product designed to work on all ruminants.
Dosage: Calves at birth - 5 g; Recovering Cattle - 7.5 g; Cows at freshening - 15 g; Sheep, Goats, Deer at birth - 3g; Mature Animals - 5 g.
#2105
Ship wt. 1 lb.
$7.20
CHLORHEXIDINE 2% SOLUTION
Use Chlorhexidine as a disinfectant for premises, supplies, surgical instruments, and equipment. It can also be used to treat cuts and abrasions. Chlorhexidine is a chemical antiseptic and is effective against bacteria and other micro-organisms on the skin. Use 1 ounce (2 tablespoons) per gallon of water.
#2022
Ship wt. 1.4 lbs.
$5.74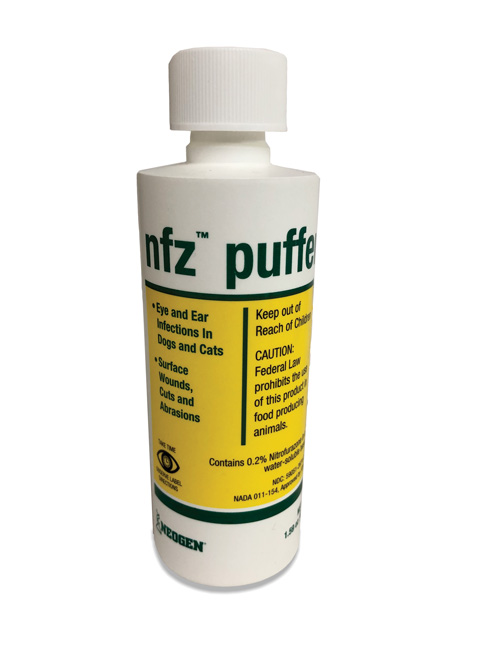 NFZ PUFFER
Nitrofurazone powder for treatment of eye and ear infections and for surface wounds, cuts and abrasions.
#2092
Ship wt. 0.5 lb.
$13.55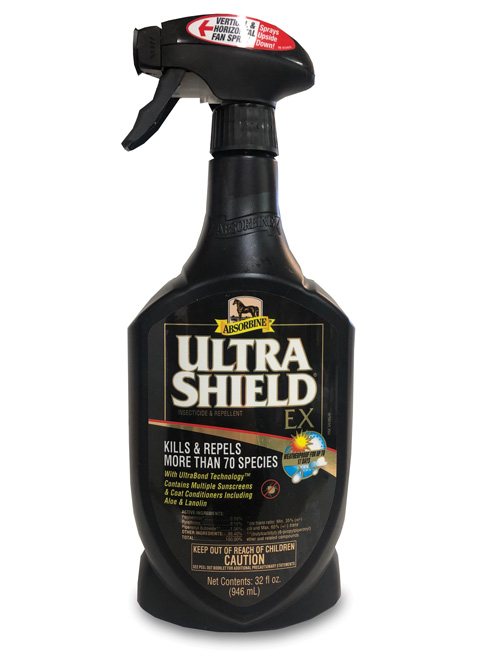 ULTRA SHIELD FLY SPRAY
Excellent and safe residual insecticide and repellant. Works on all livestock, show animals and horses.
Repels flies, mosquitoes, and gnats for 3-5 days; also contains a grooming aid and coat conditioner. Active ingredients are permecthrin and pyrethrins. Pleasantly scented.
#2085 — 32 oz. bottle
Ship wt. 2 lbs.
$28.45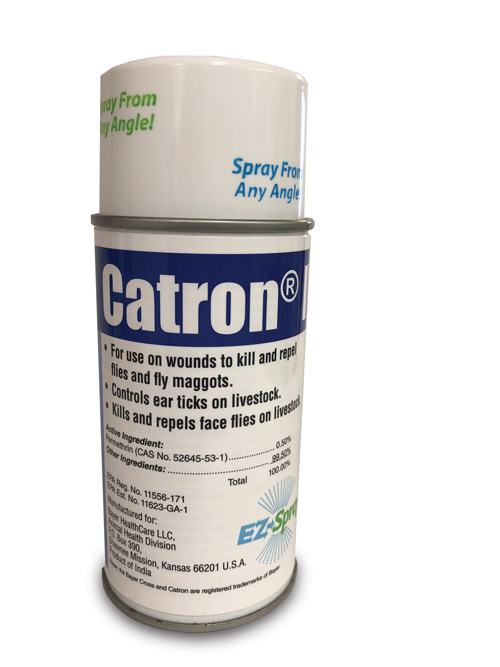 CATRON IV
A screwworm and ear tick spray that controls insect pests on beef cattle, dairy cattle, sheep, goats, hogs and horses. For use on wounds to kill and repel flies and fly maggots. Active ingredient is Permethrin 0.50%
#2087 10 oz. Can
Ship wt. 1 lb.
$9.94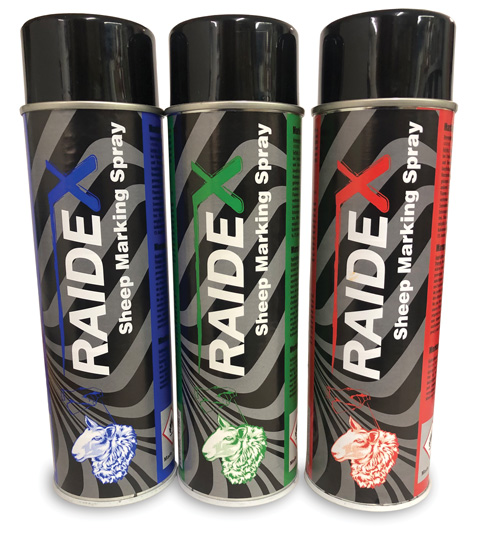 RAIDEX SPRAY STOCK MARKER
A fully scourable 400 ml spray stock marker. Dries quickly and resists fading. Available in red, blue, green, yellow and purple.
#2096
Ship wt 1.4 lbs.
$12.15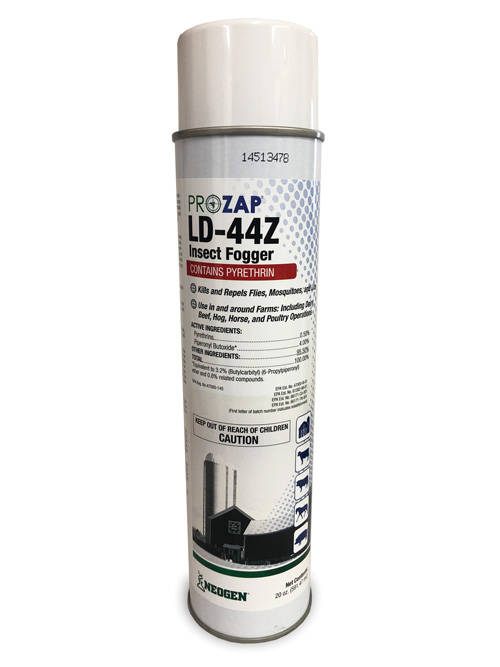 LD-44Z DIARY & LIVESTOCK INSECT KILLER
Replaces CV-ECO Flying Insect Killer.
Kills various flying insects, crawling insects, bed bugs and fleas. Use as a treatment directly on animal or in livestock facility.
#2090
Ship wt 2.4 lbs.
$19.67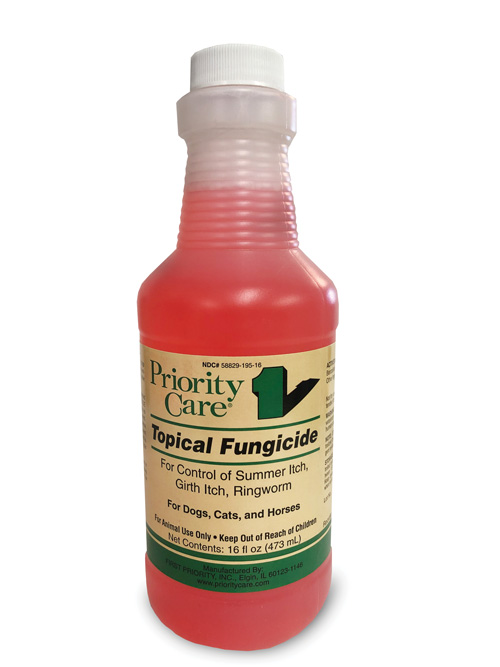 TOPICAL FUNGICIDE SPRAY
A topical spray containing benzalkonium chloride. For use in the control of ringworm, show lamb fungus, and fungal problems. 16 oz. spray bottle.
#2077 — 16 oz.
Ship wt. 1 lb.
$8.69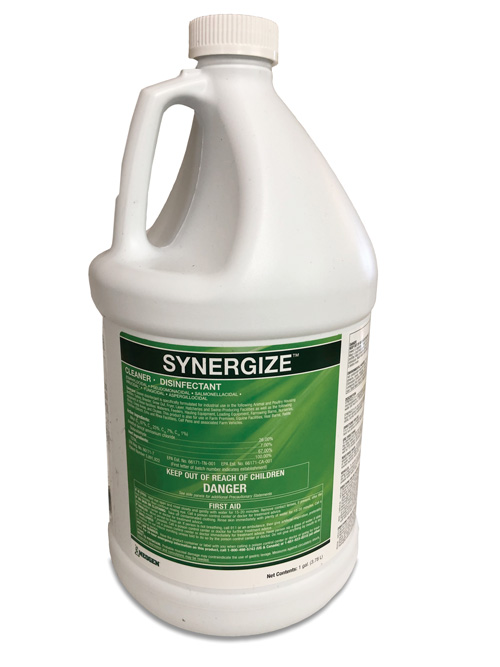 SYNERGIZE DISINFECTANT
A broad spectrum disinfectant which is effective against gram - /gram + bacteria, ecoli, staph, streph, bacteria, viruses, and salmonella. This is a more concentrated and effective product than most on the market. Can also use in a boot wash.
#2107 - 1 Gallon
Ship wt. 9 lbs.
$29.31

MICRO B-12 12X
Oral paste. Source of Vitamin 8-12. Micro 8-12 12X contains 12,000 micrograms of Vitamin 8-12. Vitamin 8-12 is essential for these normal functions in animals; growth, health, feed efficiency and reproduction, formation of red blood cells, nervous system functions, hair growth, carbohydrate and fat metabolism. 34 gram tube does 1000# b.w.
#2106
Ship wt. 1 lb.
$5.80
FOOTROT TREATMENT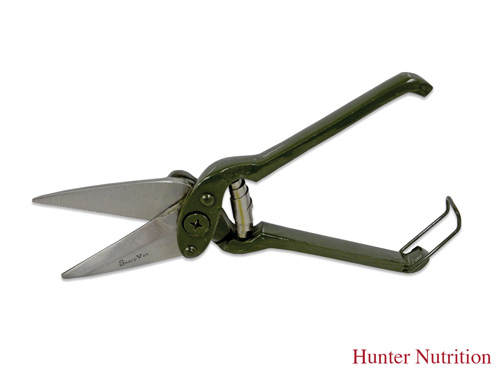 SERRATED HOOF TRIMMERS
Serrated to get through extra hard hooves with minimal effort and slippage.
#2015
Ship wt. 2 lbs.
$23.68
BURDIZZO TYPE HOOF TRIMMERS
Burdizzo style hoof trimmer with one serrated edge. Nice size, easy to use.
#3021
Ship wt. 2 lbs.
$21.17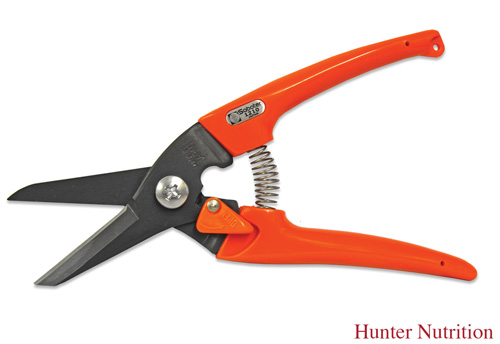 SHEAR MAGIC HOOF TRIMMERS
Lightweight, easy action, very sharp for easy cutting. Small size makes for easier handling.
#2016
Ship wt. 2 lbs.
$23.60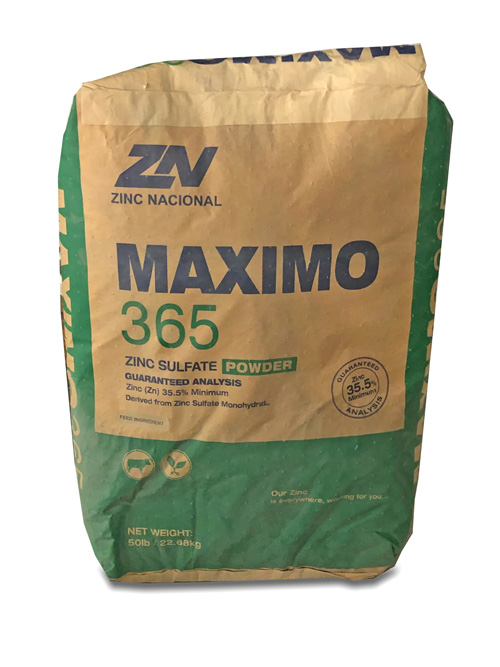 ZINC SULFATE
For use in footbaths to prevent and control footrot in sheep. Mix 8 lbs zinc sulfate, 1 cup of laundry soap, and 10 gal of water to make a footbath solution.
Sheep should have their feet trimmed, and then stand in this solution for at least 20 minutes.
#2017 — 50# bag
Ship wt. 52 lbs.
$42.00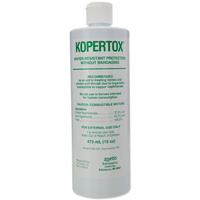 KOPERTOX
Topical treatment for footrot and thrush. Contains copper naphthenate. 16 oz.
#2058 1 pint
Ship wt. 1.4 lbs.
$28.95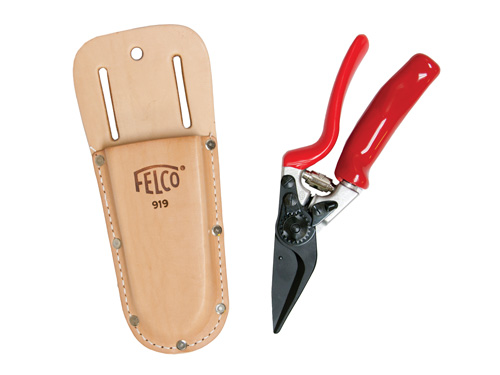 FELCO HOOF TRIMMERS
Felco is recognized as the worlds leading manufacturer of pruners and trimmers. Made of the finest materials available ensures long life and reliability. Felco hoof trimmers are easy handling. Their superior cutting performance saves time and effort.
Xylan coated blades ensure hygiene and prevent rust. Blades can be sharpened and/or replaced. One of these trimmers will last you for decades. The F-50 has one rotating handle which reduces hand fatigue. The F-51 has regular handles.
#3024 Felco #50 Hoof Trimmer
Ship wt 1 lb.
$78.80
#3025 Felco #51 Hoof Trimmer
Ship wt 1 lb.
$65.58
#3026 Replacement Cutting blade
Ship wt 0.5 lb.
$18.42
#3027 Replacement Anvil Blade
Ship wt 0.5 lb.
$18.42
#3028 Leather Holster
Ship wt 0.5 lb.
$11.09
#3029 Sharpener
Ship wt 0.5 lb.
$21.36